Most people are afraid of spiders and often go to great lengths to avoid them. Sometimes, people claim they see a house spider sneaking into the fridge, leaving them wondering, "Do spiders survive in the fridge or freezer?" 
Truth be told, spiders can survive in both the fridge and freezer, as they are cold-blooded creatures. Their body temperature is determined by their surroundings, so they can adjust to the temperature change.
Some spider species have antifreeze-like proteins in their blood, which help them survive in cold temperatures. It has been said that they won't freeze or easily die in the fridge and can survive temperatures even as low as 23° F. 
Because they are cold-blooded, they're usually attracted to cold places, like your fridge or freezer. This is probably why people typically see them trying to sneak in there. They're just trying to escape the heat and find a cool place to hide most of the time.
So, if you see a spider in your fridge or freezer, there's no need to panic! Just gently remove it and let it go outside. You may use a paper plate, plastic cup, or anything else that could gently guide the spider out without harming it.
How Do Spiders Survive in the Winter?
As the temperature drops and the days grow shorter, most creatures begin to prepare for winter. Some migrate to warmer climates, while others hunker down and enter a state of dormancy. But what about spiders?
These small, eight-legged creatures are adapted to survive in a wide range of environments, including cold winter climates. So, how do they manage to stay alive when the mercury dips?
Spiders are some of the hardiest creatures on the planet. While many animals spend the winter huddled up in dens, spiders can withstand freezing temperatures and continue to hunt for food.
So how do they do it? One reason spiders are able to survive in the winter is that they produce a special type of antifreeze protein that prevents their body fluids from solidifying.
This protein also keeps their metabolism going at a high rate, even when it's cold outside. In addition, spiders can generate heat by shivering their muscles, which helps them stay warm and active throughout the winter season. Thanks to these adaptations, spiders can thrive in even the harshest winter conditions.
Additionally, when exposed to extreme cold, spiders will enter a state of dormancy called "diapause." This is when their metabolism slows down, and they don't eat or move around much.
They can remain in this state for long periods of time until the temperature becomes more hospitable again. These spiders will often seek shelter to help them survive the winter months.
While most spiders can withstand cold temperatures, there are some that will die if exposed to freezing temperatures for too long.
These include tarantulas, jumping spiders, and wolf spiders. Fortunately, most of the spiders that are common in homes are not susceptible to freezing.
How Cold is Too Cold for Spiders?
According to some studies, spiders can survive below freezing temperatures (or sometimes even lower) than 23°F.
Depending on the species, these spiders can either enter a state of dormancy or produce special proteins that prevent ice from forming inside their cells.
If a spider does happen to freeze solid, it can often thaw out and resume normal activity once the temperature rises.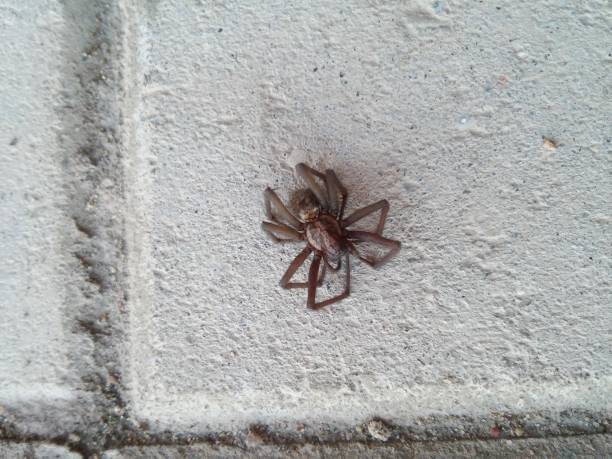 How to Get Rid of Spider in the Fridge or Freezer
If you have ever found a spider in your fridge or freezer, you know how unsettling it can be. Not only are they creepy, but they can also contaminate your food.
So how do you get rid of them? The good news is that you can take a few simple steps to get rid of spiders in your fridge or freezer.
First things first: don't panic. Spiders are more afraid of humans than we are of them. Just like you, they don't want to be seen in the fridge or freezer.
They have no intentions of stealing or sharing your food. In most cases, the spider probably just taken up residence in your fridge or freezer because it's dark and cool – perfect for a creature that doesn't like the heat.
So how do you get rid of a spider in your fridge or freezer? The best way is to simply scoop it up with a paper towel or a piece of cardboard and release it outside. Don't try to kill the spider – it's not necessary, and it might make the situation worse.
Spiders, no matter how creepy they may seem, are beneficial creatures that play a huge role in keeping the insect population in check.
Don't worry – a spider found inside your home is usually harmless. They won't bite unless they feel threatened, so don't give them a reason to be afraid, and it'll be smooth sailing from there.
Read More: Can Spiders Survive in a Vacuum Cleaner?
Things to Do to Prevent Spiders from Getting Inside Your Home
Despite the benefits that spiders can bring, many people are still afraid of them. If you're one of those people, there are a few things you can do to prevent spiders from getting inside your home in the first place.
First, make sure that you close your windows and doors, especially during the fall and spring when spiders are most active.
You should also check your screens for any holes or tears and repair them immediately. Keep in mind that even the smallest of openings can provide an entryway for spiders.
Another way to prevent spiders from getting inside your home is to keep it clean and clutter-free. Spiders love dark, hidden places where they can build their webs undisturbed. By decluttering your home, you are removing potential hiding spots for spiders.
Finally, consider using spider repellents around the perimeter of your home. There are a number of different repellents available on the market, so be sure to do your research to find one that best suits your needs.
Final Thoughts
In conclusion, spiders have the ability to adapt to temperatures inside the fridge or freezer. Its body is built to withstand the cold, and it will go into a state of dormancy if necessary. If a spider finds its way inside your fridge in any rare event, grab a cloth or cardboard to scoop the spider and let it out.